A FOREIGN LANGUAGE
1.
Edward J. Vajda and Valentina Umanets
Russian Punctuation & Related Symbols: A Guide for English Speakers
This is the first pedagogical description of Russian punctuation ever written for English-speaking students. Designed for the advanced beginner or intermediate student , it can likewise be used profitably by fluent speakers who desire to improve their command of written Russian.
Beginning with an overview of Russian syntactic categories , the book moves on to cover each Russian punctuation device and its rules of usage in Written Standard Russian. Special emphasis is placed on instances where English and Russian use the same mark of punctuation for different purposes. A final section describes the functions of other punctuation-like symbols , such as the hyphen , the capital letter , the slash , and the period used in abbeviations. Each section is accompanied by exercises structured to test comprehension of the material as it is being covered. An appendix provides suggested solutions to all exercises . This book fills an important gap in English-language teaching of Russian and should be used in every undergraduate Russian language program.
Vajda is a brilliant professor, and his book is a great help for the beginning to mid-level Russian student. Advanced Russian students will still get some good information from the book. It's a reference book that's well worth its price.
2.
Using Russian Synonyms
Designed for students who have already developed a basic competence in Russian, this book expands and improves their vocabulary. It is invaluable as a guide to finding the right word for the context because it provides detailed information on groups of Russian words with related meanings, including examples of usage and English glosses. Two indexes allow users to quickly locate words in Russian or English. The book is an essential reference for students as well as teachers of Russian and other professional linguists.
3.
Andrew Kaufman Ph.D., Serafima Gettys Ph.D.
Russian For Dummies (2nd Edition)
The fast and easy way to learn to speak Russian
With Russia in line to host the World Cup in 2018, the Winter Olympics in 2014, as well as a Formula 1 Grand Prix, interest in Russia is on the rise. Russian For Dummies is an excellent resource for students, tourists, and businesspeople looking for an introduction to this popular and complex language.
This updated edition offers new and improved content, more useful exercises and practice opportunities, all new content devoted to the Cyrillic alphabet, and much more.
A revamped, user-friendly organization
A fully updated and expanded audio CD with real-life conversations by native speakers
Expanded coverage of grammar, verb conjugations, and pronunciations
A refreshed and expanded mini-dictionary complete with even more essential vocabulary
Russian For Dummies provides basic instruction to those seeking to grasp the basics of conversational Russian. Students, travelers, and businesspeople with little or no language experience will gain a clearer understanding on how to communicate in Russian.
1 / 3
Edward J. Vajda and Valentina Umanets
Russian Punctuation & Related Symbols: A Guide for English Speakers
2 / 3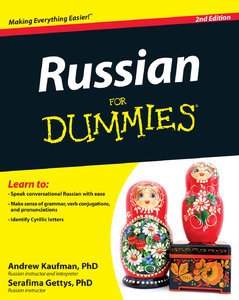 3 / 3