CINEMA RELATED
1.
Philip Powrie, Keith Reader
French Cinema: A Student's Guide
What are the Cahiers du cinéma ? Which are the most popular French films ? How do you write an essay on a French film ? What is a high-angle shot in French ? When did more French spectators go to see American films than French films ? How do you talk about a short sequence of film ? You can find the answers to these and many more questions in this essential resource for students of French cinema.
2.
Noel Carroll
Theorizing the Moving Image
Theorizing the Moving Image brings together a selection of essays written by one of the leading critics of film over the past two decades. In this volume, Noël Carroll examines theoretical aspects of film and television through penetrating analyses of such genres as soap opera, documentary, and comedy, and such topics as sight gags, film metaphor, point-of-view editing, and movie music. Throughout, individual films are considered in depth. Carroll's essays, moreover, represent the cognitivist turn in film studies, containing in-depth criticism of existing approaches to film theory, and heralding a new approach to film theory.
3.
Walter Murch,
In the Blink of an Eye: A Perspective on Film Editing, 2nd Edition
In the Blink of an Eye is celebrated film editor Walter Murch's vivid, multifaceted, thought – provoking essay on film editing. Starting with what might be the most basic editing question – Why do cuts work? – Murch treats the reader to a wonderful ride through the aesthetics and practical concerns of cutting film. Along the way, he offers his unique insights on such subjects as continuity and discontinuity in editing, dreaming, and reality; criteria for a good cut; the blink of the eye as an emotional cue; digital editing; and much more. In this second edition, Murch reconsiders and completely revises his popular first edition's lengthy meditation on digital editing (which accounts for a third of the book's pages) in light of the technological changes that have taken place in the six years since its publication.
4.
Kim Newman
Nightmare Movies: Horror on Screen Since the 1960s
Now over twenty years old, the original edition of Nightmare Movies has retained its place as a true classic of cult film criticism. In this new edition, Kim Newman brings his seminal work completely up-to-date, both reassessing his earlier evaluations and adding a second part that assess the last two decades of horror films with all the wit, intelligence and insight for which he is known. Since the publication of the first edition, horror has been on a gradual upswing, and taken a new and stronger hold over the film industry.
Newman negotiates his way through a vast back-catalogue of horror, charting the on-screen progress of our collective fears and bogeymen from the low budget slasher movies of the 60s, through to the slick releases of the 2000s, in a critical appraisal that doubles up as a genealogical study of contemporary horror and its forebears. Newman invokes the figures that fuel the ongoing demand for horror – the serial killer; the vampire; the werewolf; the zombie – and draws on his remarkable knowledge of the genre to give us a comprehensive overview of the modern myths that have shaped the imagination of multiple generations of cinema-goers.
Nightmare Movies is an invaluable companion that not only provides a newly updated history of the darker side of film but a truly entertaining guide with which to discover the less well-trodden paths of horror, and re-discover the classics with a newly instructed eye.
5.
Tyler Cullen
Knack Digital Moviemaking: Tools & Techniques To Make Movies Like A Pro
It's one thing to own a digital camera or camcorder and make shaky home movies. It's another to record and edit a movie as good as what a professional would make. Enter Knack Digital Moviemaking. With clear, step-by-step instructions and 350 full-color photographs, this quick reference guide gives you the tools and inspiration to make exactly the films you want no matter what your subject or budget. It covers everything from choosing and using a camera to casting actors, from shooting and editing to special effects. Look for valuable information about distributing your movie online, in theaters, and in festivals. 350 full-color photos covering:Screenplays
• BudgetingCameras
• Lighting
• Sound Actors
• Shooting
• Editing Effects
• Animation
• GraphicsGuerilla Filmmaking
1 / 5
2 / 5
3 / 5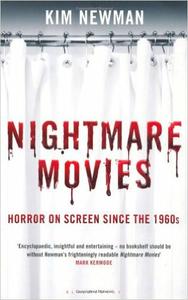 4 / 5
5 / 5