BOOKS
COOKING AND DIET
1.
Rick Rodgers
Tea and Cookies: Enjoy the Perfect Cup of Tea–with Dozens of Delectable Recipes for Teatime Treats
Enhance your enjoyment of the perfect cup of tea with delectable teatime treats. Tea and Cookies by Rick Rodgers—award-winning cooking teacher and author of more than 25 acclaimed cookbooks, including the Seasonal Gatherings and 101 series—is an exquisite gift book on the history and culture of tea that includes practical information on the many varieties available to tea lovers and delicious recipes for cookies to serve with each cup.
2.
Roxe Anne Peacock
History Lover's Cookbook: Over 150 full-color photos inspired by nineteenth century recipes, anecdotes, and the Civil War
Over 150 full-color photos inspired by nineteenth century recipes, anecdotes, and the Civil War History Lover's Cookbook will transport readers through the Battle of First Bull Run/Manassas to April 9, 1865, where General Robert E. Lee stood under an apple tree to dispatch his surrender to General Grant. Do you know what he was eating when he surrendered? Prepare a picnic of lemonade, raspberry shrub, mint julep, fried chicken, ham sandwiches, potato salad with boiled dressing, cold slaw, soda biscuits and quince marmalade to observe one of the many Civil War re-enactments throughout the United States. Enjoy eating tea cakes while viewing more than 150 full-color photos of replica Civil War items, re-enactors portraying Abraham Lincoln, Generals Custer, Lee and Grant, foods and recipes inspired by the nineteenth century. Share in the Union's Thanksgiving holiday by preparing recipes from the chapter, Siege at Petersburg. Find out what General Grant ate every morning with his breakfast. Roxe Anne Peacock brings the nineteenth century and Civil War era to life through the wonderful photography depicted throughout the book.
3.
Bryan J. Bowers
Irish Recipes: Mouthwatering Meals Direct From The Emerald Isle
Are you looking for authentic Irish recipes that will make your mouth water? Trying to find great tasting dishes for St. Patrick's Day? Look no further! The author's family immigrated from Portadown, Ireland in 1923 and brought generations of Irish recipes direct from the Emerald Isle.
You will learn how to prepare classics like Champs, Colcannon, Collops, Boxty, Farls, Brown Bread, Scones, Soda Bread, Blaas, Plum Pudding, Rhubarb Pie, Cockle Soup, Rustic Potato Soup, Cottage Pie, Coddle, Irish Stew, and lots more! You will receive more than 30 authentic Irish recipes in this book.
4.
Eleanor Whitney and Sharon Rady Rolfes
Understanding Nutrition, 14th edition
More than one million readers make Understanding Nutrition the best-selling introductory nutrition book on the market today! Now in its 14th Edition, this book maintains the quality and support that discerning readers demand in nutrition applications and science that are ideal at introductory levels. New and updated topics refresh every chapter, along with the emphasis on active learning, assignable content, and integrated resources that help you advance your knowledge and career. Connecting with you through an approachable writing style, Understanding Nutrition, 14th Edition includes twenty chapters on topics such as diet planning, macronutrients, vitamins and minerals, diet and health, fitness, life span nutrition, food safety, and world hunger, among others. Combined with a carefully developed art program and a variety of interactive activities, Understanding Nutrition, 14th Edition continues to set the standard for introductory nutrition texts.
5.
Wendy Trusler, Carol Devine
The Antarctic Book of Cooking and Cleaning: A Polar Journey
A visually captivating, novelistic travelogue that chronicles the first civilian environmental cleanup expedition in Antarctica—an engaging true story told through anecdotes, journal entries, vignettes, recipes, and archival and contemporary photography.
"The first thing that comes to mind about Antarctica is not likely the food. But if you are going there, it is the second." —Wendy Trusler and Carol Devine
The Antarctic Book of Cooking and Cleaning is a unique journey through an austral summer, when a group of dedicated individuals—fifty-four people from five countries—picked up nearly three decades' worth of garbage during a three-month period in Antarctica.
In this visually captivating polar journal, Wendy Trusler and Carol Devine transport readers back twenty years and thousands of miles to Bellinghausen, the Russian research station that became their temporary home. Devine, a humanitarian who piloted the project, and Trusler, a visual artist and cook, use journal entries, letters, provision lists, recipes, and menus to document their voyage. They share pithy, insightful observations on life, food, science, politics, and the environment. Showcased throughout are modern and vintage photos and vignettes from Antarctica's short history—all of which add delightful color and warm detail to this unique book.
Trusler reveals the challenges of cooking in a makeshift kitchen during long, white nights at the bottom of the world. While the dozens of eco-tourists strive to help preserve the continent, she must figure out how to cook for all of them in the small camp kitchen, using limited ingredients. The Antarctic Book of Cooking and Cleaning includes forty-two eclectic, tasty, and hearty recipes tinged with Russian, Chinese, and South American influences, such as Honey Oatmeal Bread, Cheese Fondue, Great Wall Dumplings, Roasted Pepper Goulash with Smoked Paprika, Roast Leg of Pork, and Frozen Chocolate Cream. All beautifully photographed, these dishes reflect the expedition's colorful cultural fabric and the astonishing raw beauty of their surroundings—a continent uniquely devoted to peace, cooperation, and science.
1 / 5
2 / 5
3 / 5
4 / 5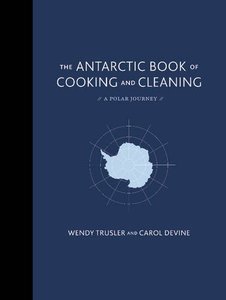 5 / 5