BOOKS
DeMYSTiFieD
1.
Joan Richards, James Keogh
Medical Charting Demystified
The CLEAR and ACCURATE way to navigate MEDICAL CHARTING
Trying to chart a course through the complex task of keeping patient records? Here's your lifeline! Medical Charting Demystified gives you the tools you need to prepare and update both computerized and written charts.
You'll learn about chart components, what to write in a chart, and how to correct errors. Medical Charting Demystified covers entering vital signs, assessments, test results, medications, procedures, patient care plans, and more. Details on the legal aspects of medical charting, including confidentiality, HIPAA, malpractice, and informed consent, are also included. Hundreds of examples and illustrations make it easy to understand the material, and end-of-chapter quizzes and a final exam help reinforce learning.
This fast and easy guide offers:
Coverage of the five common charting systems–narrative, problem-oriented, problem-intervention-evaluation, FOCUS, and charting by exception
Details on the MAR and the KARDEX
An overview of computer charting software
A time-saving approach to performing better on an exam or at work
Simple enough for a beginner, but challenging enough for an advanced student, Medical Charting Demystified is your key to mastering this vital nursing skill.
2.
Dale Layman
Medical Terminology Demystified
There's no easier, faster, or more practical way to learn the really tough subjects Medical Terminology Demystified covers all the basic terms of disease and injury, abnormal anatomy and physiology, surgical techniques, drugs, and other therapies–in the context of real, practical health issues. This self-teaching guide comes complete with key points, background information, quizzes at the end of each chapter, and even a final exam.
3.
Jim Keogh
Nursing Laboratory & Diagnostic Tests demystified
The painless way for nurses to learn laboratory and diagnostic testing!
Nursing Laboratory & Diagnostic Tests Demystified offers a clear, step-by-step blueprint to understanding the laboratory and diagnostic tests most often performed by nurses. You will learn what each test is, why it is ordered, how it is performed, how patients should prepare, how long it takes to get the results, how to interpret the results, and what the nursing implications are. Topics are presented in a logical learn-as-you-go sequence, building on what you've learned, and you'll be able to test your knowledge with chapter-ending questions and a final exam.
Confidently perform:
Hematology Tests
Electrolytes
Liver Tests
Glucose Tests
Maternity Tests
Pregnancy and Genetic Tests
Skin Tests
Renal Function Tests
Ultrasound Scans
MRIs
Diagnostic Radiologic Tests
Cardiovascular Tests
And many more
Nursing Laboratory & Diagnostic Tests Demystified is the fastest, easiest, and most enjoyable way to get up to speed on the medical tests nurses must be proficient at.
4.
Mary Digiulio, James Keogh
Medical-Surgical Nursing Demystified (Demystified Nursing)
The painless way to master medical-surgical nursing
Medical-Surgical Nursing Demystified features a full chapter for each system–cardiovascular, respiratory, immune, hematologic, nervous, musculoskeletal, gastrointestinal, endocrine, genitourinary, and integumentary. You'll find a description of how the system functions, signs and symptoms of diseases and conditions, diagnostic tests, and treatment options. Perioperative preparation and pain management are also covered. Filled with key terms to help you to remember important concepts, and complete with end-of-chapter NCLEX-style quizzes to test your knowledge, this book will teach you the fundamentals of medical-surgical nursing in no time at all.
This fast and easy guide offers:
-Learning objectives at the beginning of each chapter
-An NCLEX-style quiz at the end of each chapter to reinforce learning and pinpoint weaknesses
-Coverage of diagnostic tests and treatment options
-A final exam at the end of the book
-A time-saving approach to performing better on an exam or at work
Simple enough for a beginner, but challenging enough for an advanced student, Medical-Surgical Nursing Demystified is your shortcut to mastering this essential nursing topic.
5.
Kerry Cheever
I.V. Therapy Demystified: A Self-Teaching Guide
Your solution to mastering I.V. therapy
Looking for a quick way to learn the ins-and-outs of I.V. therapy but find other books dripping with complexity? Here's your lifeline! I.V. Therapy Demystified infuses essential information with clear explanations to make learning easy.
Written by a nursing professor, this detailed guide covers fluids and electrolytes, I.V. therapy delivery systems, and peripheral and central I.V. therapy. You will learn about crystalloid and colloid solutions and blood component, parenteral nutrition, and pharmacological therapies. I.V. therapy in infants, children, and older adults is also covered. Filled with key terms to help you to remember important concepts, and complete with end-of-chapter quizzes to test your knowledge, this book will teach you the fundamentals of I.V. therapy in no time at all.
I.V. Therapy Demystified is your shortcut to mastering this essential nursing topic.
This fast and easy guide offers:
Learning objectives at the beginning of each chapter
An NCLEX-style quiz at the end of each chapter to reinforce learning and pinpoint weaknesses
Measurements labeled in SI units
Indications for I.V. therapy and options for delivery
A time-saving approach to performing better on an exam or at work
1 / 5
2 / 5
3 / 5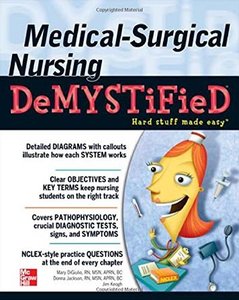 4 / 5
5 / 5