BOOKS
DRAWING
1.
James Silvani
Draw-A-Saurus: Everything You Need to Know to Draw Your Favorite Dinosaurs
This in-depth yet accessible dinosaur drawing guide combines humor, creativity, and the latest dino research to show artists young and old how to breathe life into drawings of their prehistoric favorites.
Prehistoric Pencil Power!
Even though they lived some 65 million years ago, dinosaurs and other prehistoric reptiles continue to rule today. From movies to comics and cartoons, these ancient, giant beasts are everywhere you turn. Of course, who wants to just read about or watch these dinos when you can learn how to use pencils, pens, markers, and more to draw your very own?
Cartoonist James Silvani combines easy-to-follow art exercises with the latest, greatest dino-facts to help you create fun and cool dinosaur doodles all by yourself. With lessons on old favorites like T-rex and stegosaurus, as well as lesser-known (but still awesome) creatures like the massive argentinosaurus, Draw-a-Saurus has everything the dinosaur fan could ever ask for (outside of their very own pet dino!).
2.
Lee J. Ames, Bob Singer
Draw 50 Animal 'Toons: The Step-by-Step Way to Draw Dogs, Cats, Birds, Fish, and Many, Many, More…"
Draw 50 Animal 'Toons shows aspiring artists how to draw with ease by following simple, step-by-step instructions. Acclaimed author Lee J. Ames helps you bring to life a skateboarding crocodile, a funky monkey, and a juggling seal. Also included are dinosaurs, flamingos, squirrels, gorillas, and a whole spectrum of fun-loving animals.
Lee J. Ames's drawing method has proven successful for children and adults alike over the past thirty years. The twenty-seven books in the Draw 50 series have sold more than 3 million copies and have shown everyone from amateurs to experts how to draw everything from animals to airplanes.
Even the youngest artists can make these 'toons look great. It's easy to draw cartoon animals when you do it the Draw 50 way.
3.
Lee Hammond's Big Book of Drawing
With Lee Hammond's Big Book of Drawing, your art will spring to life! From laughing children and frolicking tigers to fruit so vivid it makes your mouth water, you'll discover how to realistically draw your favorite subjects and how to draw them well!
Learn to:
Use easy-to-master graphing and shaping techniques to better portray your subject
Replicate the effects of light through blending and shading
Accurately render the personalities of people and animals
Realistically draw flowers and natural elements by applying hard or soft edges
Achieve a range of effects by using different brands of colored and graphite pencils
Whether you're a beginner or a professional, with Lee Hammond's instruction you'll find the arsenal of tools you need to create stunning, real-life drawings that will captivate your audience.
4.
Lee J. & Lee P. Ames
Draw 50 Flowers, Trees and other Plants
This book will be a great help to art novices wanting to hone skills while turning out impressive, sophisticated sketches. As usual, the process starts with a foundation sketch of simple lines and shapes. Then there's a series of increasingly detailed pictures (there are between 6 and 12 separate sketches on a page) that culminate in a fully developed drawing. The difficulty level of the plants is nicely varied, and the sequences are as thoughtfully orchestrated as ever. However, the green pencil used in the demonstration sketches is occasionally too light to be seen easily. Artists who want to search out more about an interesting-looking specimen will appreciate the inclusion of each plant's common and scientific names.
5.
J Keely
Cool Cars Cartooning: Learn the Art of Cartooning Step by Step
In this entertaining 32-page book, popular illustrator Jack Keely shows aspiring cartoonists how to draw a variety of cool cars-from classic beauties to custom roadsters. Beginning with the basics, Jack demonstrates several different cartoon styles, shows how to draw from a photograph, and provides tips on adding lifelike color. He then explains traditional cartoon techniques such as squash and stretch, exaggeration, and anthropomorphism. He also shares his tricks of the trade for drawing in a graphic-novel style, designing custom paint jobs, depicting movement, and adding human caricatures. With humorous illustrations and witty instructions, this clever how-to-draw book is the perfect addition to any cartoonist's library.
1 / 5
2 / 5
3 / 5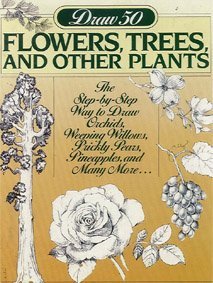 4 / 5
5 / 5