BOOKS
LEARNING A FOREIGN LANGUAGE
1.
Thomas R. Beyer Jr. Ph.D.
Learn Russian the Fast and Fun Way
The emphasis is on the Russian needed by tourists and businesspeople, as well as young people, in the newest addition to Barron's Fast and Fun Way language series. Cheerful illustrations, grammar and vocabulary flash cards, learning exercises in the form of games and puzzles, and a special pull-out bilingual dictionary with a food and drink guide are just a sampling of the attractive features that help make learning Russian an adventure.
2.
Alan Timberlake
A Reference Grammar of Russian (Reference Grammars)
This textbook describes and systematizes all aspects of the grammar of Russian including patterns of orthography, sounds, inflection, syntax, tense-aspect-mood, word order, and intonation. It is especially concerned with the meaning of combinations of words (constructions) and the core concept is that of the predicate history (a record of the states of entities through time and across possibilities). Using predicate histories, the book presents an integrated account of the semantics of verbs, nouns, case, and aspect. It will appeal to students, scholars and language professionals interested in Russian.
3.
Terence Wade
A Comprehensive Russian Grammar
The third edition of Terence Wade's A Comprehensive Russian Grammar, newly updated and revised, offers the definitive guide to current Russian usage.
Provides the most complete, accurate and authoritative English language reference grammar of Russian available on the market
Includes up-to-date material from a wide range of literary and non-literary sources, including Russian government websites
Features a comprehensive approach to grammar exposition
Retains the accessible yet comprehensive coverage of the previous edition while adding updated examples and illustrations, as well as insights into several new developments in Russian language usage since the collapse of the Soviet Union in 1991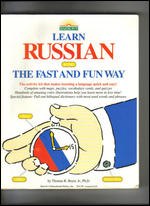 1 / 3
2 / 3
3 / 3