COLORING WORKBOOKS
1.
Elaine N. Marieb and Simone Brito
Anatomy and Physiology Coloring Workbook: A Complete Study Guide, 12th Edition
For courses in 1- and 2-semester Anatomy & Physiology
Simplify your Study of Anatomy & Physiology.
Combining a wide range and variety of engaging coloring activities, exercises, and self-assessments into an all-in-one Study Guide, the Anatomy and Physiology Coloring Workbook helps you simplify your study of A&P. Featuring contributions from new co-author Simone Brito, the 12th edition of this best-selling guide continues to reinforce the fundamentals of anatomy and physiology through a variety of unique, interactive activities. You now benefit from new crossword puzzles in each chapter, along with dozens of strengthened and expanded exercises, illustrations, and over 100 coloring exercises. Additional self-assessments, "At The Clinic" short answer questions, and unique "Incredible Journey" visualization exercises, further reinforce basic concepts that are relevant to health care careers.
2.
I. Edward Alcamo
Anatomy Coloring Workbook: Bk. 2
Anatomy Coloring Workbook
The human body is wondrously complex, with 700 muscles, 206 bones, and countless cells and tissues. Studying and remembering all of them can be overwhelming.
The Anatomy Coloring Workbook gives you a clear and concise understanding of anatomy. The interactive approach to learning anatomy through coloring takes less time than memorizing from textbooks and flashcards. The coloring process thoroughly fixes anatomical concepts in your mind, and when you need to recall the material, you'll be able to visualize the body structures.
The diagrams and plates in the Anatomy Coloring Workbook have been created electronically, to give you a sharp, precise rendering of anatomical structures. We fully explain the concepts behind each coloring lesson to make the learning experience complete. We include an introductory section on anatomical terminology to get you started, coloring suggestions to assist you, and labels for easy identification and reference.
This book is an invaluable resource for students of anatomy, physiology, biology, psychology, nursing, medical technology, health administration, fitness education, nutrition, art, and more.
Medical practitioners, dentists and dental hygienists, physical and occupational therapists, educators, and professionals in scores of other fields will also find directed coloring a helpful means of review.
The 125 plates in the book are organized into the following sections:
Introduction to Anatomy
The Skeletal System
The Muscular System
The Nervous System
The Endocrine System
The Circulatory System
The Digestive System
The Respiratory System
The Urinary System
The Reproductive System
3.
Margaret Matt, Joe Ziemian
Human Anatomy Coloring Book
"Human Anatomy Coloring Book" contains careful, scientifically accurate line renderings of the body's organs and major systems: skeletal, muscular, nervous, digestive, reprodicutive, etc.. A total of 43 plates (often with several illustrations to a page) offers numerous views, cross-sections, diagrams and detailed closeups, labelled and numbered to correspond with suggestions for coloring. These suggestions are specially designed to emphasize the structural relationships in the body. By working through each system, the reader will gain not only an intimate knowledge of the location, appearance and role of the body parts, but ill be laying the groundwork for more sophisticated studies of anatomy.
4.
McCann S.
Kaplan Anatomy Coloring Book
Learning anatomy and systems of the body is often a difficult task for students at any educational level. One effective method students often use to retain complex information is to practice the kinesthetic learning method. Students of all types—medical school students, physical therapists, art students, and even yoga instructors—use anatomical coloring guides to help supplement their training. With the Kaplan Medical Anatomy Coloring Book, students will benefit from realistic illustrations, key word reviews, explanatory paragraphs, and the highest level of accuracy an anatomical guide can provide.
The Kaplan Medical Anatomy Coloring Book offers medical students the opportunity to learn by coloring detailed sketches of systems of the body and pairing these illustrations with corresponding labeling exercises.
Students can also take advantage of:
Over 450 detailed and realistic medical illustrations, accompanied by labeling keys and exercises
A clear and descriptive overview of each illustration, including major features, key points, coloring guidelines, and detailed microscopic views of cells and tissues, as well as fill-in-the-blank study aids
15 chapters covering the major body systems, as well as physiological information on cells, tissues, muscles, and development
96 perforated, detailed illustrations of muscles to color in a flashcard format for simple and effective studying on-the-go
Nomina Anatomica labels, the international standard of anatomical nomenclature.
5.
Kerry Hull
Coloring Atlas of the Human Body
Coloring Atlas of the Human Body provides a comprehensive overview of human anatomy and physiology for visually-oriented and kinesthetic learners. By coloring a series of specially designed diagrams and the accompanying flashcards, students will learn and remember concepts much more effectively than with traditional textbooks alone. The completed coloring exercises and flashcards can also serve as tools to review and prepare for examinations.
A companion Website includes two additional coloring exercises and bonus study and test taking tips.
1 / 5
2 / 5
3 / 5
4 / 5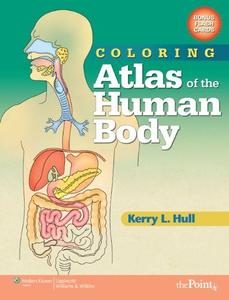 5 / 5