GEOGRAPHY
1.
Nicholas Clifford, Sarah L Holloway
Key Concepts in Geography (2nd Edition)
Including ten new chapters on nature, globalization, development, and risk and a new section on practicing geography, this is a completely revised and updated edition of the bestselling, standard student resource. The Second Edition of Key Concepts in Geography explains the key terms – space, time, place, scale, landscape – that define the language of geography. It is unique in the reference literature as it provides – in one volume – concepts from both human geography and physical geography; especially relevant now that environment is so critical to our understanding of geography.
2.
John Morrissey
Key Concepts in Historical Geography
"This ambitious volume reviews the best recent work in historical geography… It demonstrates how a dual sense of history and geography is necessary to understand such key areas of contemporary debate as the inter-relationship between class, race and gender; the character of nations and nationalism; the nature and challenges of urban life; the legacies of colonialism; and the meaning and values attributed to places, landscapes and environments."
– Mike Heffernan, University of Nottingham
Key Concepts in Historical Geography forms part of an innovative set of companion texts for the Human Geography sub-disciplines. Organized around 24 short essays, it provides a cutting edge introduction to the central concepts that define contemporary research in Historical Geography. Involving detailed and expansive discussions, the book includes:
An introductory chapter providing a succinct overview of the recent developments in the field
24 key concepts entries with comprehensive explanations, definitions and evolutions of the subject
Pedagogic features that enhance understanding including a glossary, figures, diagrams and further reading
Key Concepts in Historical Geography is an ideal companion text for upper-level undergraduate and postgraduate students and covers the expected staples from the discipline – from people, space and place to colonialism and geopolitics – in an accessible style. Written by an internationally recognized set of authors, it is is an essential addition to any human geography student's library.
3.
Michael Craghan
Physical Geography: A Self-Teaching Guide
Learn physical geography at your own pace
What is atmospheric pressure? How does latitude indicate the type of climate a specific place will have? Where are volcanic eruptions or strong earthquakes most likely to occur? With Physical Geography: A Self-Teaching Guide, you'll discover the answers to these questions and many more about the basics of how our planet operates.
Veteran geography teacher Michael Craghan takes you on a guided tour of Earth's surface, explaining our planet's systems and cycles and their complex interactions step by step. From seasonal changes to coastal processes, from effluvial basins to deep sea fissures, Craghan puts the emphasis on comprehension of the topics. He also includes more than 100 specially commissioned illustrations and 50 photographs to help clarify difficult concepts. The clearly structured format of Physical Geography makes it fully accessible, providing an easily understood, comprehensive overview for everyone from the student to the amateur geographer to the hobbyist.
Like all Self-Teaching Guides, Physical Geography allows you to build gradually on what you have learned-at your own pace. Questions and self-tests reinforce the information in each chapter and allow you to skip ahead or focus on specific areas of concern. Packed with useful, up-to-date information, this clear, concise volume is a valuable learning tool and reference source for anyone who wants to improve his or her understanding of physical geography.
4.
Ron Johnston, James Sidaway
Geography and Geographers: Anglo-American human geography since 1945
Geography and Geographers continues to be the most comprehensive and up-to-date overview of human geography available. It provides a survey of the major debates, key thinkers and schools of thought in the English-speaking world, setting them within the context of economic, social, cultural, political and intellectual changes. It is essential reading for all undergraduate geography students.
It draws on a wide reading of the geographical literature and addresses the ways geography and its history are understood and the debates among geographers regarding what the discipline should study and how.
This extensively updated seventh edition offers a thoroughly contemporary perspective on human geography for new and more experienced students alike.
5.
Anoop Nayak, Alex Jeffrey
Geographical Thought: An Introduction to Ideas in Human Geography
Geographical Thought provides a clear and accessible introduction to the key ideas and figures in human geography. The book provides an essential introduction to the theories that have shaped the study of societies and space. Opening with an exploration of the founding concepts of human geography in the nineteenth century academy, the authors examine the range of theoretical perspectives that have emerged within human geography over the last century from feminist and marxist scholarship, through to post-colonial and non-representational theories. Each chapter contains insightful lines of argument that encourage readers towards independent thinking and critical evaluation.
Supporting materials include a glossary, visual images, further reading suggestions and dialogue boxes.
1 / 5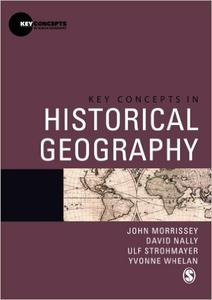 2 / 5
3 / 5
4 / 5
5 / 5