Novel
The O. Henry Prize Stories 2017 edited by Laura Furman
Henry IV, Part 2 (Folger Shakespeare Library) by William Shakespeare
Much Ado About Nothing (Shakespeare Made Easy Series) by William Shakespeare
Deer Life by Ron Sexsmith
Shadow of a Thief: A Thriller by Norman Green
The O. Henry Prize Stories 2017 edited by Laura Furman
The O. Henry Prize Stories 2017 edited by Laura Furman
English | September 5, 2017 | ISBN: 0525432507 | EPUB | 368 pages | 4.9 MB
The O. Henry Prize Stories 2017 contains twenty breathtaking stories—by a vibrant mix of established and emerging writers—selected by the series editor from the thousands published in literary magazines over the previous year. The collection includes essays by the three eminent guest jurors on their favorite stories, observations from the winning writers on what inspired them, and a comprehensive resource list of the many magazines and journals, both large and small, that publish short fiction.
"Too Good To Be True," Michelle Huneven
"Something for a Young Woman," Genevieve Plunkett
"The Buddhist," Alan Rossi
"Garments," Tahmima Anam
"Protection," Paola Peroni
"Night Garden," Shruti Swamy
"A Cruelty," Kevin Barry
"Floating Garden," Mary La Chapelle
"The Trusted Traveler," Joseph O'Neill
"Blue Dot," Keith Eisner
"Lion," Wil Weitzel
"Paddle to Canada," Heather Monley
"A Small Sacrifice for an Enormous Happiness," Jai Chakrabarti
"The Bride and the Street Party," Kate Cayley
"Secret Lives of the Detainees," Amit Majmudar
"Glory," Lesley Nneka Arimah
"Mercedes Benz," Martha Cooley
"The Reason Is Because," Manuel Muñoz
"The Family Whistle," Gerard Woodward
"Buttony," Fiona McFarlane
The jurors this year are David Bradley, Elizabeth McCracken, and Brad Watson.
Henry IV, Part 2 (Folger Shakespeare Library) by William Shakespeare
English | 2006 | ISBN: 074348505X | 400 pages | EPUB | 14 MB
Henry IV, Part 2 is the only Shakespeare play that is a "sequel," in the modern sense, to an earlier play of his. Like most sequels, it repeats many elements from the previous work, Henry IV, Part 1. This play again puts on stage Henry IV's son, Prince Hal, who continues to conceal his potential greatness by consorting with tavern dwellers, including the witty Sir John Falstaff.
As in Part 1, Prince Hal and Falstaff seek to best each other in conversation, while Falstaff tries to ingratiate himself with Hal and Hal disdains him. Part 2 adds some fresh characters, the rural justices Shallow and Silence and Shallow's household. Political rebellion, while important to the plot, does not loom as large as in Part 1. There are no glorious champions; combat is replaced by deception, cunning, and treachery.
The authoritative edition of Henry IV, Part 2 from The Folger Shakespeare Library, the trusted and widely used Shakespeare series for students and general readers, includes:
-Freshly edited text based on the best early printed version of the play
-Full explanatory notes conveniently placed on pages facing the text of the play
-Scene-by-scene plot summaries
-A key to the play's famous lines and phrases
-An introduction to reading Shakespeare's language
-An essay by a leading Shakespeare scholar providing a modern perspective on the play
-Fresh images from the Folger Shakespeare Library's vast holdings of rare books
-An annotated guide to further reading
Essay by A. R. Braunmuller
The Folger Shakespeare Library in Washington, DC, is home to the world's largest collection of Shakespeare's printed works, and a magnet for Shakespeare scholars from around the globe. In addition to exhibitions open to the public throughout the year, the Folger offers a full calendar of performances and programs. For more information, visit Folger.edu.
Much Ado About Nothing (Shakespeare Made Easy Series) by William Shakespeare
English | 2009 | ASIN: B003D9AMW6 | 256 pages | EPUB | 0,7 MB
This interactive e-book edition of Shakespeare Made Easy: Much Ado About Nothing allows you to move easily back and forth between Shakespeare's original text and the modern text of the play. By clicking on a character's name in the original text, you are taken to the same place in the modern text, and vice versa.
The back-of-book exercises also contain links that take you directly to the lines in the play referenced in specific practice questions.
Deer Life by Ron Sexsmith
English | 2017 | ISBN: 1459738772 | 136 pages | EPUB | 4 MB
A wicked fairy tale of witchcraft, bullying, revenge, and a mysterious bowler hat. Includes Ron's own whimsical illustrations.
Deryn Hedlight was not having a very good day and it was about to get much worse. He'd read stories of witches as a boy, but never believed for a second they were true. That is, until an unfortunate hunting accident turns his world upside down. What seemed like an honest mistake leads to an altogether unexpected transformation. But poor Deryn wasn't the only wronged character tied up in these gloomy circumstances and sinister forces.
Deer Life tells the story of a kind-hearted boy from Hinthoven and his motheṟs undying love. Mostly though, it's all about patience, friendship, and heroism where you least expect it.
Shadow of a Thief: A Thriller by Norman Green
English | October 10, 2017 | ISBN: 0062672797 | EPUB | 352 pages | 1.3 MB
Combining his pitch perfect voice for the characters who live in New York's underbelly with a compelling new protagonist, Norm Green's Shadow of a Thief grabs you by the throat and doesn't let go
In a previous life, Saul Fowler was a thief-for-hire with an impressive client list, including the US government. When he seeks shelter from his addictions up on the coast of Maine, his past comes back to haunt him in the form of his estranged stepfather, Reverend McClendon. "Someone killed my daughter," says the rev. "Find out who did it Saul, I know you can help me. Please?" None of this would be Saul's problem, except that the girl might be his half-sister.
Back in NYC, a place he never thought he'd see again, Saul delves deep under the surface of the dead girl's life. Before long he finds himself contending with gangs, pimps, prostitutes, the NYPD, and just maybe, the fifth fundamental universal force. Finding the truth will either change his life forever, or end it.
Gritty and unputdownable, this is perfect for fans of James Lee Burke and Robert Crais.
1 / 5
2 / 5
3 / 5
4 / 5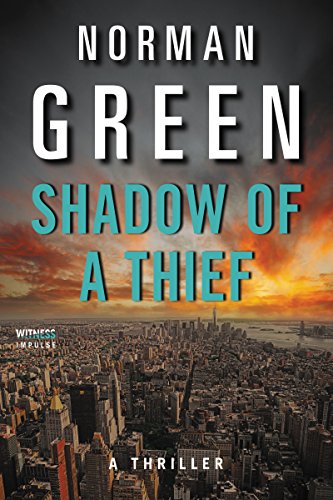 5 / 5