Philosophy
Phenomena-Critique-Logos: The Project of Critical Phenomenology by Michael Marder
Art and Enlightenment: Scottish Aesthetics in the 18th Century (Library of Scottish Philosophy) edited by Jonathan Friday
An Utterly Dark Spot: Gaze and Body in Early Modern Philosophy (The Body, In Theory: Histories of Cultural Materialism) by Miran Božovič
Richard Weikart, "The Death of Humanity: and the Case for Life"
Dan Kaufman, "The Routledge Companion to Seventeenth Century Philosophy"
Phenomena-Critique-Logos: The Project of Critical Phenomenology by Michael Marder
English | May 16, 2014 | ISBN: 1783480254, 1783480262 | EPUB | 160 pages | 0.7 MB
One commonplace assumption in Continental philosophy circles today is that there is an unbridgeable gap between, on the one hand, Kantian and post-Kantian critical tradition in German thought and, on the other, Husserlian and post-Husserlian phenomenology.
Phenomena-Critique-Logos challenges this assumption and endeavors to work out a systematic concept of critique, using the resources of phenomenology itself. In this innovative work, Michael Marder argues that critique is situated at the very heart of phenomenology, traversing the Husserlian oeuvre and regulating the relation between phenomena and logos, conceived in its multiple senses as reason, logic, a mode of thinking, study and word. Having outlined the features of phenomenology as a kind of critique, Marder goes on to demonstrate how it is applicable to ontology, ethics and politics, through sustained readings of Heidegger, Levinas, Arendt and Derrida, as well as through an original elaboration of phenomenological critique pertinent to each of these fields.
Art and Enlightenment: Scottish Aesthetics in the 18th Century (Library of Scottish Philosophy) edited by Jonathan Friday
English | July 1, 2004 | ISBN: 0907845762 | EPUB | 212 pages | 0.9 MB
During the intellectual and cultural flowering of Scotland in the 18th century few subjects attracted as much interest among men of letters as aesthetics – the study of art from the subjective perspective of human experience. All of the great philosophers of the age – Hutcheson, Hume, Smith and Reid – addressed themselves to aesthetic questions. Their inquiries revolved around a cluster of issues – the nature of taste, beauty and the sublime, how qualitative differences operate upon the mind through the faculty of taste, and how aesthetic sensibility can be improved through education.
This volume brings together and provides contextual introductions to the most significant 18th century writing on the philosophy of art. From the pioneering study of beauty by Francis Hutcheson, through Hume's seminal essays on the standard of taste and tragedy, to the end of the tradition in Dugald Stewart, we are swept up in the debate about art and its value that fascinated the philosophers of enlightenment Scotland – and continues to do so to this day.
An Utterly Dark Spot: Gaze and Body in Early Modern Philosophy (The Body, In Theory: Histories of Cultural Materialism) by Miran Božovič
English | July 12, 2000 | ISBN: 047211140X | EPUB | 152 pages | 0.3 MB
Slovenian philosopher Miran Bozovic's An Utterly Dark Spot examines the elusive status of the body in early modern European philosophy by examining its various encounters with the gaze. Its range is impressive, moving from the Greek philosophers and theorists of the body (Aristotle, Plato, Hippocratic medical writers) to early modern thinkers (Spinoza, Leibniz, Malebranche, Descartes, Bentham) to modern figures including Jon Elster, Lacan, Althusser, Alfred Hitchcock, Stephen J. Gould, and others. Bozovic provides startling glimpses into various foreign mentalities haunted by problems of divinity, immortality, creation, nature, and desire, provoking insights that invert familiar assumptions about the relationship between mind and body.
The perspective is Lacanian, but Bozovic explores the idiosyncrasies of his material (e.g., the bodies of the Scythians, the transvestites transformed and disguised for the gaze of God; or Adam's body, which remained unseen as long as it was the only one in existence) with an attention to detail that is exceptional among Lacanian theorists. The approach makes for engaging reading, as Bozovic stages imagined encounters between leading thinkers, allowing them to converse about subjects that each explored, but in a different time and place. While its focus is on a particular problem in the history of philosophy, An Utterly Dark Spot will appeal to those interested in cultural studies, semiotics, theology, the history of religion, and political philosophy as well.
Richard Weikart, "The Death of Humanity: and the Case for Life"
2016 | ISBN-10: 162157489X | 368 pages | PDF | 3 MB
Do you believe human life is inherently valuable? Unfortunately, in the secularized age of state-sanctioned euthanasia and abortion-on-demand, many are losing faith in the simple value of human life. To the disillusioned, human beings are a cosmic accident whose intrinsic value is worth no more than other animals.
The Death of Humanity explores our culture's declining respect for the sanctity of human life, drawing on philosophy and history to reveal the dark road ahead for society if we lose our faith in human life.
Dan Kaufman, "The Routledge Companion to Seventeenth Century Philosophy"
2017 | ISBN-10: 0415775671 | 608 pages | PDF | 3 MB
The Routledge Companion to Seventeenth Century Philosophy is an outstanding survey of one of the most important eras in the history of Western philosophy – one which witnessed philosophical, scientific, religious and social change on a massive scale.
A team of twenty international contributors provide students and scholars of philosophy and related disciplines with a detailed and accessible guide to seventeenth century philosophy. The Companion is divided into seven parts:
Historical Context
Metaphysics
Epistemology
Mind and Language
Moral and Political Philosophy
Natural Philosophy and the Material World
Philosophical Theology.
Major topics and themes are explored and discussed, including the scholastic context that shaped philosophy of the period, free will, skepticism, logic, mind-body problems, consciousness, arguments for the existence of God, and the problem of evil. As such The Routledge Companion to Seventeenth Century Philosophy is essential reading for all students of the period, both in philosophy and related disciplines such as literature, history, politics, and religious studies.
1 / 5
2 / 5
3 / 5
4 / 5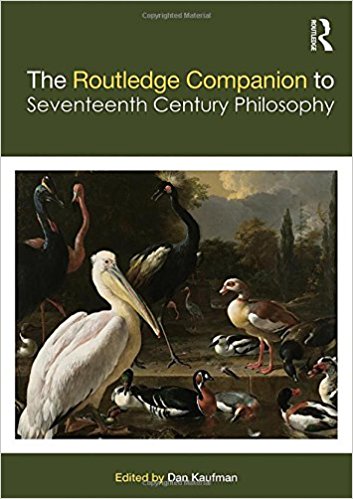 5 / 5