Philosophy
The Adventure (MIT Press) by Giorgio Agamben, Lorenzo Chiesa
What a Philosopher Is: Becoming Nietzsche by Laurence Lampert
Continuity and Rupture: Philosophy in the Maoist Terrain by J. Moufawad-Paul
You Can Stop Humming Now: A Doctor's Stories of Life, Death, and in Between by Daniela Lamas
L'ubica Ucnik, Anita Williams, "Phenomenology and the Problem of Meaning in Human Life and History"
The Adventure (MIT Press) by Giorgio Agamben, Lorenzo Chiesa
2018 | ISBN: 0262037599 | English | 106 pages | PDF | 3 MB
Agamben charts a journey that ranges from poems of chivalry to philosophy, from Yvain to Hegel, from Beatrice to Heidegger.
An ancient legend identifies Demon, Chance, Love, and Necessity as the four gods who preside over the birth of every human being. We must all pay tribute to these deities and should not try to elude or dupe them. To accept them, Giorgio Agamben suggests, is to live one's life as an adventure – not in the trivial sense of the term, with lightness and disenchantment, but with the understanding that adventure, as a specific way of being, is the most profound experience in our human existence. In this pithy, poetic, and compelling book, Agamben maps a journey from poems of chivalry to philosophy, from Yvain to Hegel, from Beatrice to Heidegger. The four gods of legend are joined at the end by a goddess, the most elusive and mysterious of all: Elpis, Hope. In Greek mythology, Hope remains in Pandora's box, not because it postpones its fulfillment to an invisible beyond but because somehow it has always been already satisfied. Here, Agamben presents Hope as the ultimate gift of the human adventure on Earth.
What a Philosopher Is: Becoming Nietzsche by Laurence Lampert
2018 | ISBN: 022648811X | English | 352 pages | PDF | 1 MB
The trajectory of Friedrich Nietzsche's thought has long presented a difficulty for the study of his philosophy. How did the young Nietzsche—classicist and ardent advocate of Wagner's cultural renewal—become the philosopher of Will to Power and the Eternal Return?
With this book, Laurence Lampert answers that question. He does so through his trademark technique of close readings of key works in Nietzsche's journey to philosophy: The Birth of Tragedy, Schopenhauer as Educator, Richard Wagner in Bayreuth, Human All Too Human, and "Sanctus Januarius," the final book of the 1882 Gay Science. Relying partly on how Nietzsche himself characterized his books in his many autobiographical guides to the trajectory of his thought, Lampert sets each in the context of Nietzsche's writings as a whole, and looks at how they individually treat the question of what a philosopher is. Indispensable to his conclusions are the workbooks in which Nietzsche first recorded his advances, especially the 1881 workbook which shows him gradually gaining insights into the two foundations of his mature thinking. The result is the most complete picture we've had yet of the philosopher's development, one that gives us a Promethean Nietzsche, gaining knowledge even as he was expanding his thought to create new worlds.
Continuity and Rupture: Philosophy in the Maoist Terrain by J. Moufawad-Paul
English | 2016 | ISBN: 1785354760 | 312 Pages | PDF | 1.2 MB
A philosophical examination of the theoretical terrain of contemporary Maoism premised on the counter-intuitive assumption that Maoism did not emerge as a coherent theory until the end of the 1980s.
You Can Stop Humming Now: A Doctor's Stories of Life, Death, and in Between by Daniela Lamas
English | March 27th, 2018 | ASIN: B06XZP6TSK, ISBN: 0316393177, 0349412774 | 256 Pages | EPUB | 1.20 MB
A critical care doctor's breathtaking stories about what it means to be saved by modern medicine
Modern medicine is a world that glimmers with new technology and cutting-edge research. To the public eye, medical stories often begin with sirens and flashing lights and culminate in survival or death. But these are only the most visible narratives. As a critical care doctor treating people at their sickest, Daniela Lamas is fascinated by a different story: what comes after for those whose lives are extended by days, months, or years as a result of our treatments and technologies?
In You Can Stop Humming Now, Lamas explores the complex answers to this question through intimate accounts of patients and their families. A grandfather whose failing heart has been replaced by a battery-operated pump; a salesman who found himself a kidney donor on social media; a college student who survived a near fatal overdose and returned home, alive but not the same; and a young woman navigating an adulthood she never thought she'd live to see – these moving narratives paint a detailed picture of the fragile border between sickness and health.
Riveting, gorgeously told, and deeply personal, You Can Stop Humming Now is a compassionate, uncompromising look at the choices and realities that many of us, and our families, may one day face.
L'ubica Ucnik, Anita Williams, "Phenomenology and the Problem of Meaning in Human Life and History"
2017 | ISBN-10: 3959482973 | 341 pages | PDF | 3 MB
This edited volume highlights the continuing relevance of Husserl's phenomenology, through a selection of work from members of the Organization of Phenomenological Organizations. As their papers amply demonstrate, contemporary phenomenology retains its critical focus, even as the discipline continues to expand and diversify. The book consists of four sections. In the first, authors focus on the contemporary implications of Husserl's critique of natural science and the problem of meaning; in the second, they draw upon phenomenological insights to help us understand present day social and ecological crises. The third includes contributions on the relationships between phenomenology, hermeneutics, literature and art; while in the final section, authors take up the work of prominent post-Husserlian phenomenologists to think through issues of language, interpretation, philosophy, religion and the history of ideas. In sum, the variety of approaches these thinkers take in order to understand issues that currently confront us richly demonstrates the enduring significance of Husserlian phenomenology for 20th- and 21st-century philosophy.
1 / 5
2 / 5
3 / 5
4 / 5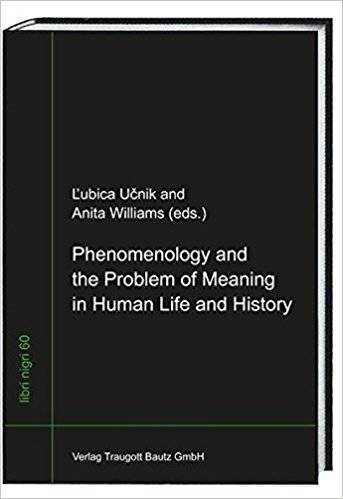 5 / 5