The Cambridge Companion to Schoenberg (Cambridge Companions to Music) by Jennifer Shaw and Joseph Auner
Stan Brakhage: Interviews (Conversations with Filmmakers Series) by Suranjan Ganguly
The Temporary Bride: A Memoir of Love and Food in Iran by Jennifer Klinec
H. H. Holmes: The True History of the White City Devil
The Tao of Raven : An Alaska Native Memoir
The Cambridge Companion to Schoenberg (Cambridge Companions to Music) by Jennifer Shaw and Joseph Auner
Arnold Schoenberg – composer, theorist, teacher, painter, and one of the most important and controversial figures in twentieth-century music. This Companion presents engaging essays by leading scholars on Schoenberg's central works, writings, and ideas over his long life in Vienna, Berlin, and Los Angeles. Challenging monolithic views of the composer as an isolated elitist, the volume demonstrates that what has kept Schoenberg and his music interesting and provocative was his profound engagement with the musical traditions he inherited and transformed, with the broad range of musical and artistic developments during his lifetime he critiqued and incorporated, and with the fundamental cultural, social, and political disruptions through which he lived. The book provides introductions to Schoenberg's most important works, and to his groundbreaking innovations including his twelve-tone compositions. Chapters also examine Schoenberg's lasting influence on other composers and writers over the last century.
Stan Brakhage: Interviews (Conversations with Filmmakers Series) by Suranjan Ganguly
In this volume, editor Suranjan Ganguly collects eight of Stan Brakhage's most important interviews in which the filmmaker describes his conceptual frameworks; his theories of vision and sound; the importance of poetry, music, and the visual arts in relation to his work; his concept of the muse; and the key influences on his art-making. In doing so, Brakhage (1933–2003) discusses some of his iconic films, such as Anticipation of the Night, Dog Star Man, Scenes from Under Childhood, Mothlight, and Text of Light.
One of the most innovative filmmakers in the history of experimental cinema, Brakhage made almost 350 films in his fifty-two-year-long career. These films include psychodramas, autobiography, Freudian trance films, birth films, song cycles, meditations on light, and hand-painted films, some of which range from nine seconds to over four hours in duration. Born in Kansas City, Missouri, he lived most of his life in the mountains of Colorado, teaching for twenty-one years in the film studies program at the University of Colorado, Boulder.
As a filmmaker, Brakhage's life-long obsession with what he called an "adventure in perception" made him focus on the act of seeing itself, which he tried to capture on film in multiple ways both with and without his camera and by scratching and painting on film. Convinced that there is a primary level of cognition that precedes language, he wrote of the "untutored eye" with which children can access ineffable visual realities. Adults, who have lost such primal sight, can "retrain" their eyes by becoming conscious of what constitutes true vision and the different ways in which they daily perceive the world. Brakhage's films experiment with such perceptions, manipulating visual and auditory experience in ways that continue to influence film today.
The Temporary Bride: A Memoir of Love and Food in Iran by Jennifer Klinec
Jennifer Klinec is fearless. In her thirties, she abandons her bland corporate job to launch a cooking school from her London apartment and travel the world in search of delicious recipes and obscure culinary traditions. Her journey takes her to Iran, where she seeks out a local woman to learn the secrets of Persian cuisine.
Vahid is suspicious of the strange foreigner who turns up in his mother's kitchen. Unused to such a bold and independent woman, he is frustrated to find himself, the prized only son of the house, largely ignored for the first time. But when the two are thrown together on an unexpected adventure, they discover a mutual attraction that draws them irresistibly toward each other–but also pits them against harsh Iranian laws and customs, which soon threaten to tear the unlikely lovers apart.
Getting under the skin of one of the most complex and fascinating nations on earth, THE TEMPORARY BRIDE is a soaring, intricately woven story of being loved, being fed, and struggling to belong.
H. H. Holmes: The True History of the White City Devil
H. H. Holmes: The True History of the White City Devil is the first truly comprehensive book examining the life and career of a murderer who has become one of America's great supervillains. It reveals not only the true story but how the legend evolved, taking advantage of hundreds of primary sources that have never been examined before, including legal documents, letters, articles, and records that have been buried in archives for more than a century.
Though Holmes has become just as famous now as he was in 1895, a deep analysis of contemporary materials makes very clear how much of the story as we know came from reporters who were nowhere near the action, a dangerously unqualified new police chief, and, not least, lies invented by Holmes himself.
Selzer has unearthed tons of stunning new data about Holmes, weaving together turn-of-the-century America, the killer's background, and the wild cast of characters who circulated in and about the famous "castle" building. This book will be the first truly accurate account of what really happened in Holmes's castle of horror.
Exhaustively researched and painstakingly brought to life, H. H. Holmes will be an invaluable companion to the upcoming Martin Scorsese and Leonardo DiCaprio movie about Holmes's murder spree based on Erik Larson's The Devil in the White City
The Tao of Raven : An Alaska Native Memoir
In her first book, Blonde Indian, Ernestine Hayes powerfully recounted the story of returning to Juneau and to her Tlingit home after many years of wandering. The Tao of Raven takes up the next and, in some ways, less explored question: once the exile returns, then what?
Using the story of Raven and the Box of Daylight (and relating it to Sun Tzu?s equally timeless Art of War) to deepen her narration and reflection, Hayes expresses an ongoing frustration and anger at the obstacles and prejudices still facing Alaska Natives in their own land, but also recounts her own story of attending and completing college in her fifties and becoming a professor and a writer. Hayes lyrically weaves together strands of memoir, contemplation, and fiction to articulate an Indigenous worldview in which all things are connected, in which intergenerational trauma creates many hardships but transformation is still possible. Now a grandmother and thinking very much of the generations who will come after her, Hayes speaks for herself but also has powerful things to say about the resilience and complications of her Native community.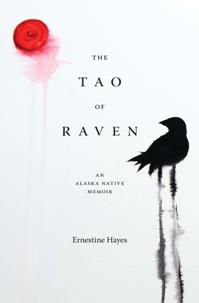 1 / 5
2 / 5
3 / 5
4 / 5
5 / 5